Celebrating 25 years in 2020!
For the last 25 years, the English-speaking community of the Greater Québec City region has collaborated in running a successful Community Christmas Hamper Campaign. We distribute Christmas hampers to over 200 homes in need, which is an enormous challenge with a most heart-warming outcome. Learn more in the press release (available Nov. 1), infographic or video.
Jeffery Hale Community Partners coordinates the campaign's central registry of English-speaking community members who need help during the holiday season.
Join our efforts from November 1 to December 19, 2020!
Due to COVID-19, we are NOT able to accept food donations this year, but you can still give to the campaign by making a monetary donation and by offering your volunteer time.  Help us spread the word! See the Partners section below to download our printable and shareable publicity tools.
About the charity
The mission of the Jeffery Hale Community Partners is to promote and contribute to the health and well-being of the English-speaking population of the Quebec City and Chaudière-Appalaches regions. Jeffery Hale Community Partners (JHCP) is a registered charity through Canada Revenue Agency (CRA) since 1991 and a leading partner in the coordination of the Community Christmas Hamper Campaign. Donations are managed directly by the JHCP and through Canada Helps.
Where does my donation go?
Due to the pandemic, we CANNOT accept food donations this year, so we need your monetary donations more than ever to purchase all food for the hampers - fruit, vegetables, meats AND non-perishable items. Our biggest purchases are bread, eggs and turkey, which complete a traditional holiday dinner.
I am ready to donate online
Fantastic! You can donate to our campaign online using our secure and convenient online donation form and receive a tax receipt right away from Jeffery Hale Community Partners, the registered charity behind the campaign.

I am ready to donate by mail
Wonderful! You may submit a donation by cheque payable to the Community Christmas Hamper Campaign. We issue tax receipts for donations of $10 or more.
Community Christmas Hamper Campaign
c/o Jeffery Hale Community Partners
2000-1270, chemin Sainte-Foy
Québec (Québec) G1S 2M4
I'd like to give my time!
Over 300 volunteers work together to collect, pack and deliver hampers on the week prior to the Christmas Holidays. Help deliver some goodness!
How do I sign up?
- New volunteer? You can fill in an application here. For assistance on how to fill out the application form, please view our how-to video!
- Returning volunteer? Using your username and password, login here.
[Have you forgotten? Don't worry, there's a button for that! Please refrain from filling in an application form all over again.]
For more help, contact the Volunteer Coordinator for the hamper campaign by email (
jprice@jhpartners.net
) or by phone 418 684-5333, ext. 1550.
Share your volunteer story!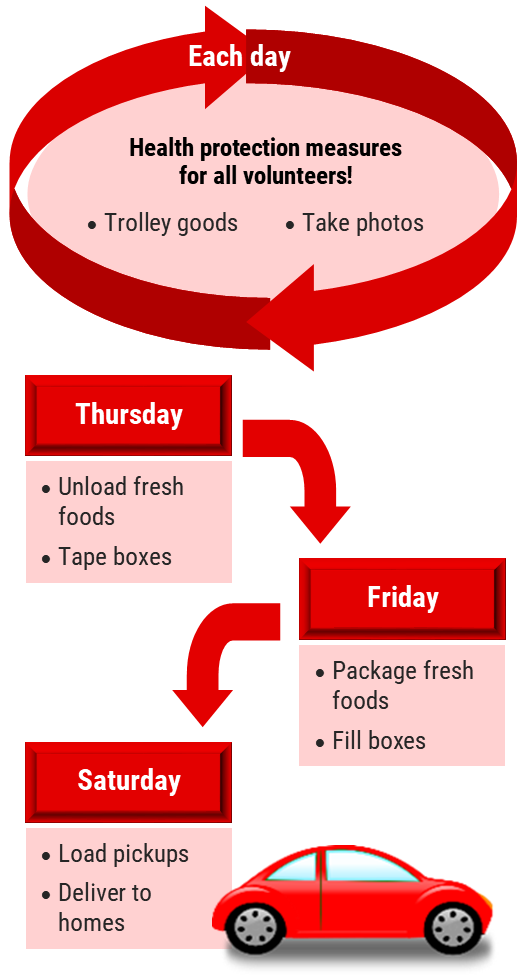 How and when can I register?
Anyone in need of a hamper may register by contacting a church, organization or institution listed in the hamper registry pamphlet before Monday, November 16, 2020.
If your child attends a school in the Central Quebec School Board, you can contact your school social worker or nurse who may be reached at Jeffery Hale Community Services, 418 684-5333, ext. 1580
What happens once I've registered?
This is a confidential service. Your contact person will give your name and address confidentially to the central registry for the Community Christmas Hamper Campaign. After this is done, names and addresses will be checked for duplication. Your contact person will call you to tell you the date and the approximate time of delivery. We would ask that you make a point of being at home to receive your hamper. It will be delivered to you by a team of volunteers.
What are other helpful resources available to me?
If you need further help, there are many community services that may be of help to you, including: referrals to other helping agencies (food banks), help with income tax returns, access to a free job bank.
Call Jeffery Hale Community Services to speak with a social worker
at 418 684-5333, ext. 1580.
Help! I don't know how to cook a turkey!
Please read our instructions on how to cook a turkey safely.
Become a Partner
How can you become a partner?
Are you affiliated with an organization, church or community group? Are you an entrepreneur or independent business owner? Do you work for a local or international company? Your company, organization or group can help us reach our objective of providing a Christmas dinner to over 200 families this holiday season.
Join our committee and help raise funds! Printable and shareable publicity tools : 8-1/2 x11 poster in English and French, and 1440x1080 jpeg for electronic display in English and French.
Join us as a corporate partner and donate or offer a whopping discount on your food item or supplies.
Join us as a corporate partner for our delivery day, or lend your company or organization's expertise in any way.
Interested? Call or e-mail (give@qchampers.ca ) to submit your name and contact information along with your interest in partnering with us.
Share your partner story!
Current Partners
Community Partners
Representatives from the following community groups are on the planning committee for this annual initiative
Other community collaborators include
Saint Brigid's Home Foundation
Nation Quebec Integrations
Corporate partners